Photography Sales
Purchase framed prints from Martin Sercombe's Spoken in Light exhibition here.
The images are printed on Ilford archive quality photographic paper, protected by non reflective glass, in a black wooden A0 sized frames.
Shipping costs are not included in the online price. Prints can be collected from Martin Sercombe's studio. Please telephone to arrange a time. Personal delivery within the Auckland area can be arranged at additional cost, payable in cash on delivery or via direct bank transfer.
Telephone 09 600 1186.
Each work is priced at $950 for a signed framed print.
Between the Blue and the Green
This time exposed image of wave motions on the rock formations at Murawai, West Auckland was shot in October 2016.
The Wanderers
This image of three wayfarers in a momentarily biblical pose, was shot in Whatipu in July 2015.
Wave Chasers
Gulls along the shoreline in Whatipu, shot in March 2015.
Above and Below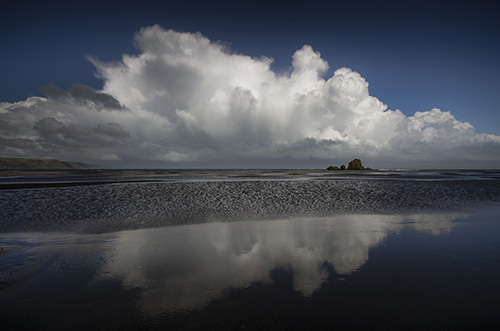 This image was shot in Whatipu in September 2015.
Mitre Peak
Shot in Milford Sound on a very stormy, rain swept day, near Dale Point, January 2016.
Stirling Falls
Shot in Milford Sound on the same day.
Photography Reviews
"like a curious twist on a Constable masterpiece."
"...the fleeting remnant of a potent dream image..."
"like a shot from an early Bergman film like Wild Strawberries or the Virgin Spring..."
"looks like somewhere Van Gogh would have walked..."
"this completely felt very "Last Night at Marienbad" to me - - full of secrets and eternally poetic."
"dreamy...it harkens back to Steichen's astonishing "The Pond-Moonlight (1904)."
"if heaven exists I suppose it could look a bit like this..."